Roll Down Bug Screens & Retractable Screens
Coastal Shutters Inc. is a very well respected family owned and family operated company staffed by a highly dedicated team of master craftsmen and very talented designers. To describe the entire staff as customer centric is an understatement. They are dedicated to their customers and to the community.
Coping With Damaging Storms and Personal Hardships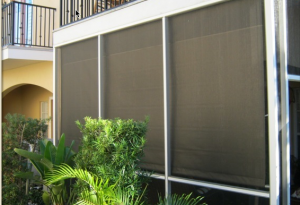 The Coastal Shutters owners and their staff uncovered the pressing need to help you protect your families, pets, homes, and belongings.
The owners and staff fully understood the urgent need to protect their customers, family, and beloved pets, plus their financial investment. This is exactly why Coastal Shutters only purchases and stocks the very finest in quality materials when they design and create their products. The firm is determined to make sure that all of their products are strong, well-designed and constructed. Additionally, Coastal Shutters, Inc. creates products are all Miami Dade rated.
Much to everyone's delight, Coastal Shutters features a distinctive array of attractive roll down bug screens and retractable screens for patios and windows.
Please take a moment and carefully check out a number of Coastal's stunning signature colors and their custom match screen frame to meet your personal preferences. We also suggest that you carefully choose from many beautiful fabrics, and designs.
Can Bugs Find Their Way Through Bug Screens Into Your Home?
Unfortunately, the answer to the question that many people ask is yes. Bugs can find their way through some bug screens. That being said, the way around this unwanted problem is the quality of the screen itself. The quality and workmanship should be top flight with no tiny screen gaps for bugs to use.
If you would like to find out more about our rolldown bug screens, please feel free to contact us with any questions you may have.  

If you're looking for hurricane shutters in South Florida, you'll find superior products and service here at Coastal Shutters & Windows!

Hurricane Fabric is Florida Building Code approved, blocks wind and rain and can withstand a Category 5 wind load. This is great for the Do-It-Yourselfers. Hurricane fabric is compact and easily stored.
Coastal Shutters carries Rolldown Bug screen to help keep the bugs out but keep the lanai cool and comfortable with the press of a button.  These screens are convenient and beautiful.